Marengo Cave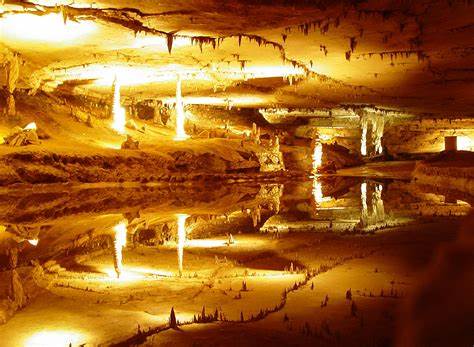 Head down to the tiny town of Marengo, where legend has it that a young boy and his older sister accidentally discovered an enormous cave at the bottom of a sinkhole in 1883. Archaeologists now know that the Marengo Cave and its beautiful formations of helictites and stalactites began to form approximately 1 million years ago. The cave, which spans about 5 miles underground, was designated as a U.S. National Natural Landmark in 1984 and now gets more than 70,000 visitors per year. Tour guides offer 40- and 60-minute walking tours, but visitors can also plan a muddy cave exploring trip or check out some kid-friendly gemstone mining.
Location: 400 East State Rd 64, Marengo, IN 47140
Contact: (812) 365-2705
Price: $17 for a 40-minute tour for adults, $10 for children
Website: http://marengocave.com
Where to Stay:
Head 25 minutes south of Marengo to the Horseshoe Bend RV Campground alongside the beautiful Ohio River in Leavenworth. From May to October, Horseshoe Bend offers 70 RV campsites with full hookups and a picnic table and fire ring. The gated campground also has its own camp store, laundry facilities, children's pirate ship play area, and even a boat ramp. You can also try the nearby Grand Trails RV Park in Corydon, which has 65 full-service sites as well as a pool, coin laundry, and barbecue facilities.
Brown County State Park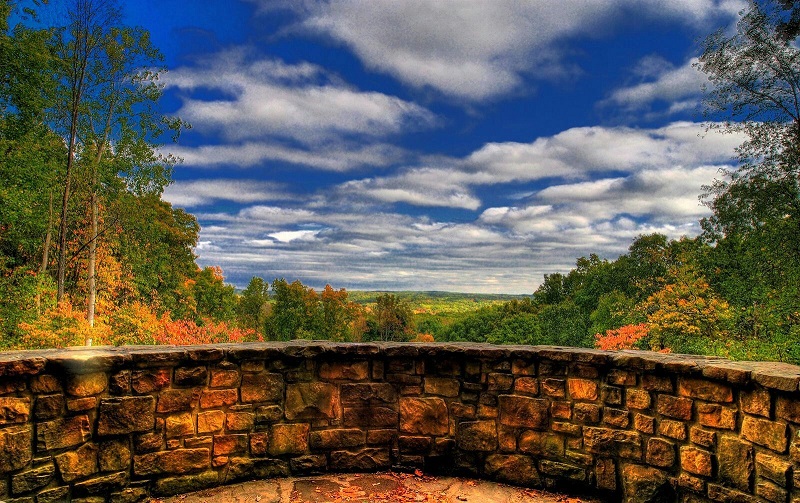 Nicknamed the "Little Smokies" because of the area's resemblance to the Great Smoky Mountains, Brown County encompasses nearly 16,000 acres of rugged hills, ridges and fog-shrouded ravines. Glaciers from the most recent ice ages stopped short of the "hills o' Brown," but their meltwaters helped create the narrow ridges, steep slopes and deep gullies of Brown County State Park. Indiana's largest park is a traditional fall color hot spot, with nearly 20 miles of tree-lined roads and many scenic vistas overlooking miles of uninterrupted forestland.
The park's rustic Abe Martin Lodge offers accommodations that include motel rooms, cabins, dining and conference facilities and an indoor water park. Large campgrounds, hiking and mountain biking trails, interpretive services, a saddle barn for guided horse rides and a separate horseman campground with 70 miles of horse trails are some of the things that make Brown County State Park popular year-round.
During the summer, pool hours may change because of weather and staffing. Please contact the property office for exact times before your visit.
The surrounding county and nearby Indiana town of Nashville are famous for their unique shopping, dining, arts and crafts, history, entertainment, and outdoor adventure opportunities.
Location: 1405 S.R. 46W, Nashville, IN 47448
Contact: (812) 988-6406
Website: DNR: State Parks: Brown County State Park (in.gov)
Turkey Run State Park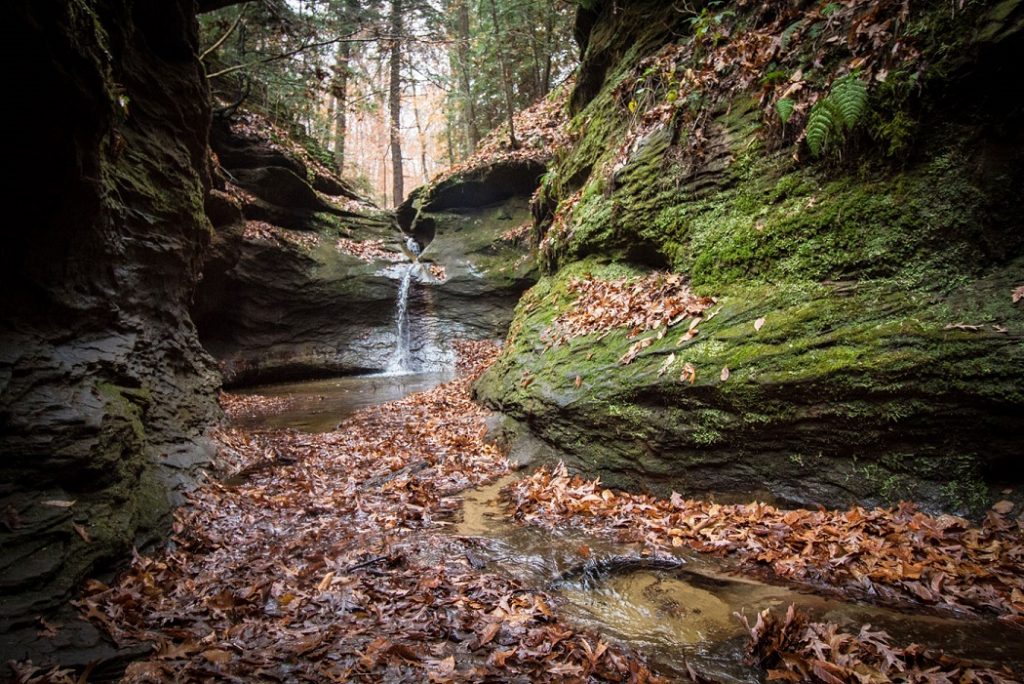 The first parcel of Turkey Run State Park's 2,382 acres was purchased during Indiana's centennial in 1916 when the State Park system was first established. Turkey Run is Indiana's second state park.
There are many legends about how Turkey Run got its name. One story says that wild turkeys, finding it warmer in the canyon bottoms, or "runs", would often huddle in these runs to avoid the cold. Pioneer hunters would herd the turkeys through these natural funnels into a central location for an easy harvest. Since historic accounts suggest that large numbers of turkeys lived here, it follows that turkeys in the runs prompted the area's name, Turkey Run.
The early pioneers have also left traces of their heritage here. Find out more about the historic sites at Turkey Run State Park.
Location: 8121 E. Park Rd. Marshall, Indiana 47859
Contact: (765) 597-2635
Website: Guide to Turkey Run State Park in Indiana – Turkey Run State Park
Indiana Dunes State Park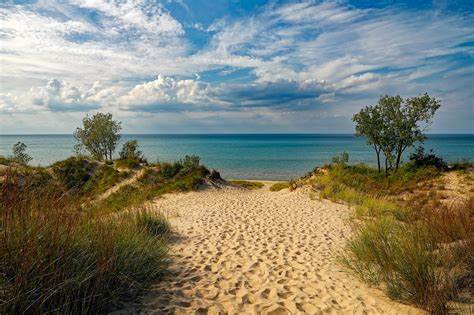 A state park surrounded by a national park, the Indiana Dunes State Park is 2,182 acres of dunes, marshes, swamps, hardwood forests, and white pine groves with a lifeguarded beach (summer only). The park features some of the best hikes in the area, including The 3 Dune Challenge—the three tallest sand dunes along the southern shore of Lake Michigan—and Trail 9—named the best place to hike in Indiana by USA Today. The park also offers camping and a park naturalist housed at the Nature Center with interpretive programs held throughout the year. Just take Interstate 80-94 or the Indiana Toll Road to Indiana 49 North. Check our events page for information about guided tours and ranger-led hikes.
Amenities: Contact, Venue Photo, Outdoor, Beach, Motor Coach Parking, Credit Cards Accepted, On/Near Lake, Family Friendly, Public Restrooms, Group Friendly (20+), Accessible, Swimming, Pet Friendly (on leash), Camping, Fee, Picnicking, Swimming Beach, Capacity Range, Indoor/Outdoor
Location: 600 N. 25 East, Chesterton, IN 46304
Contact:  (219) 926-1952
Website: Indiana Dunes State Park | Indiana Dunes
 Amish Acres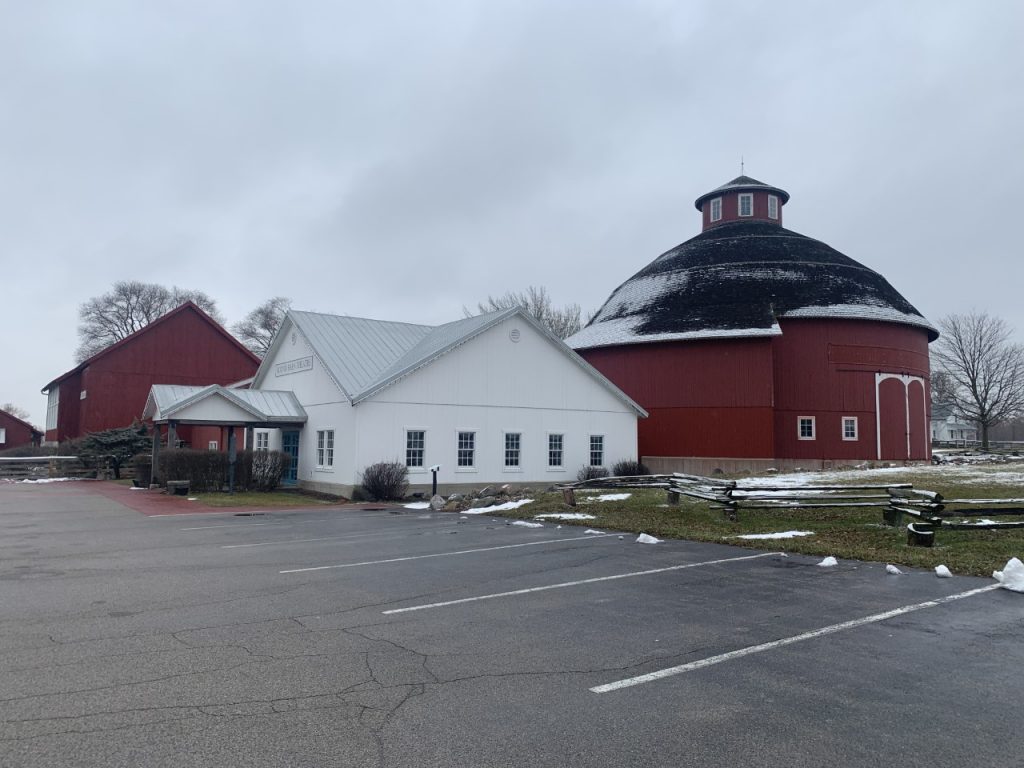 Location: 1600 W Market St, Nappanee, IN 46550
Contact: (574) 773-4188
Price: $12.95 for a house and farm tour for adults, $4.95 for children
Discounts: seniors, students, military
Website: http://www.amishacres.com
Website: Guide to Turkey Run State Park in Indiana – Turkey Run State Park